Jesus March under the secular radar
An estimated 4,000-5,000 people turned out for the March For Jesus in Calgary June 20, the first such march in the city in 10 years.
The parade included balloons, flags, music and shofars (replicas of ancient Israelite trumpets). Bibles and tracts were given out to spectators.
Ric McIver, a Calgary alderman, and Bill Mills, the mayor of Truro, Nova Scotia, cut a white chain to start the march, symbolizing that Jesus was breaking the spiritual bondage of the city.
The march moved from Millennium Park to Olympic Plaza, where the day concluded with a six-hour worship service.
The event apparently received no coverage in the local media.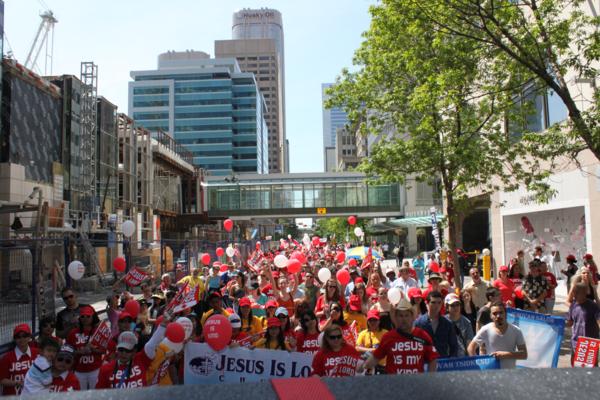 Breaking the Chains over Calgary by Mayor Bill Mills and Alderman Rick McIver
in the name of Jesus Christ!