Christmas Celebration! Festival of Love and Solidarity with Each-Other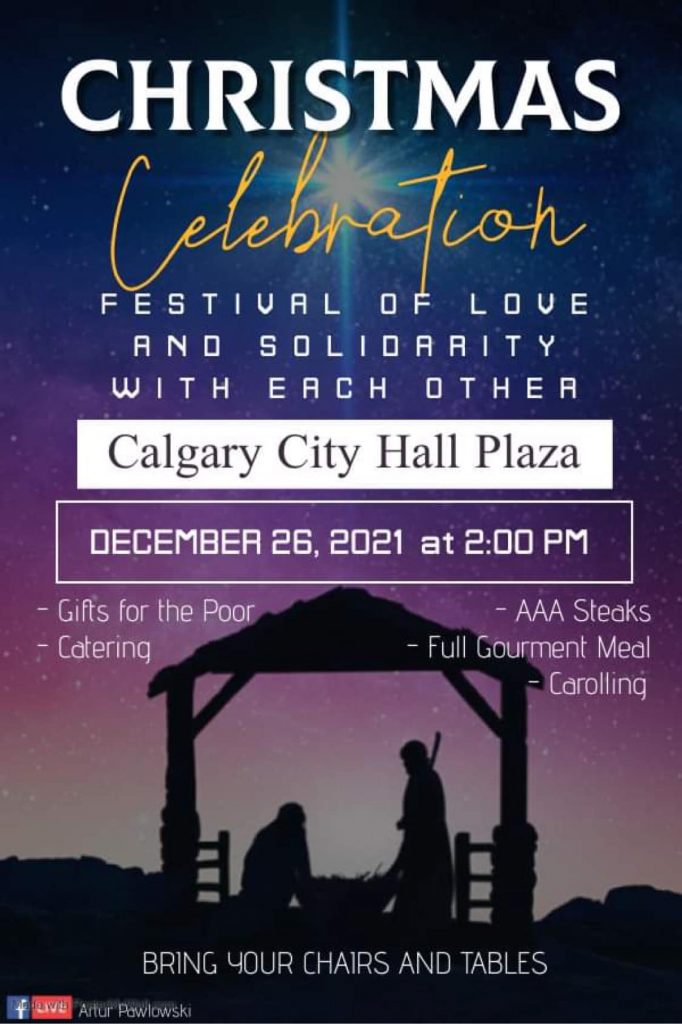 Friends, in just a few days we will have an amazing event happening in Calgary! December 26, 2 pm at Calgary City Hall! Christmas Celebration! Bring your chairs and tables! We will have catering, barbeques, AAA Steaks, carolling and gifts for the poor!
If we are not allowed to go to a restaurant, we will have a restaurant at City Hall! Come, and let's have the biggest Christmas Party in Canada!
All Freedom Loving Patriots are Welcome to come and taste our very own, the best Alberta Steaks with a Huge dose of our own Alberta Freedom! An event that you simply cannot miss!
If you would like to help, you can donate by using e-transfer: [email protected], by using our website: www.streetchurch.ca, PayPal (info on the website) or you can send your support by cheque to the address here: 1740 25 A Street SW Calgary Alberta Canada T3C1J9 Street Church, Artur Pawlowski.
Thank you and bless you!
We meet on the streets four times a week and inside the building, every Saturday 9:45 AM!
– [ ] The Fortress (Cave) of Adullam, every Saturday 9:45 am! Time of worship, testimonies, preaching, and lunch afterward. The address is: 4315 26 Avenue SE, Calgary.
For more information call: 403-607-4434 or email: [email protected]
YouTube: https://youtube.com/channel/UCppnexVl511K6mFXnwyC_Jg