Christian demonstrators attacked, injured by liberals waving gay pride flag
This was a Church vigil called "In Defence of Christianity" Thouse homofascists and antifa-fascists just proved our point that there is a need to defend Christianity in this Godless and perverted nation!
CALGARY, Alberta, July 18, 2017 (LifeSiteNews) — A "Defense of Christianity" demonstration in front of Calgary's City Hall turned violent.
Street Church had a valid permit and was ready to begin when angry members of Calgary's "Anti-Fascist Action" group started screaming in the faces of demonstrators.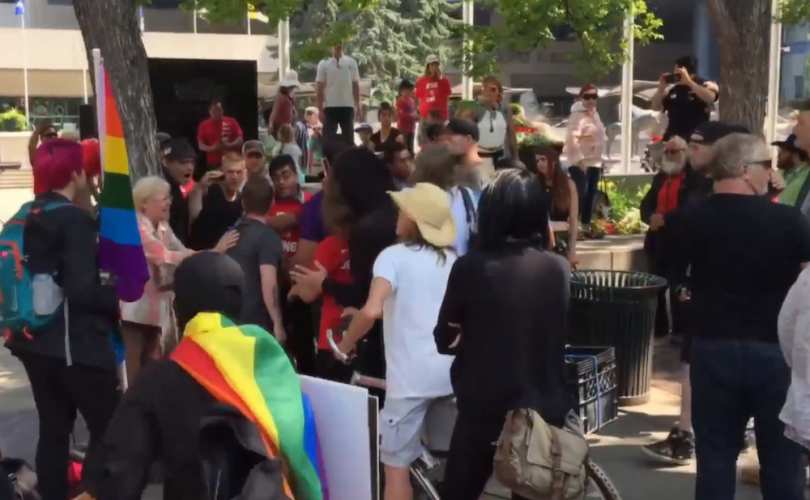 The "Street Church" demonstrators screamed back, "Jesus loves you and wants to save your soul," and similar messages. Confrontations escalated, culminating in the "Anti-Fascist" group starting several mixed martial arts fights.
The rally disintegrated into a mass brawl quickly as counter-protesters cursed at, pushed, threw down, kicked, and began punching Street Church members.
The demonstration was scheduled to feature pro-life and pro-marriage activist Bill Whatcott. He is facing a $104 million lawsuit for "sharing the Gospel surreptitiously at the Toronto homosexual shame parade," and another lawsuit from the British Columbia Human Rights Tribunal for "referring to a gender-confused biological male who was running for the NDP as a male."
The fights spilled into the street at one point and there were several minor injuries.
Police have made no arrests.
Detective Keith Silvester told the CBC that investigators will be "going over video," and "if we deem that arrests are necessary, people will be arrested and charged."
Last month, a Worldwide Coalition Against Islam demonstration against a Parliamentary motion (M103) criminalizing "Islamophobia" was attacked by Calgary's "Anti-Fascist Action."
Calgary's Street Church has held several demonstrations, including last month's "Rally Against Hate."  Four times a week, they feed the needy and "preach the Gospel" at City Hall.
No effort to restrain the agitating "Anti-Fascist Action" group was announced by officials.