Trial starts for Calgary pastor charged in border blockade
By Bill Graveland The Canadian Press Thu., Feb. 2, 2023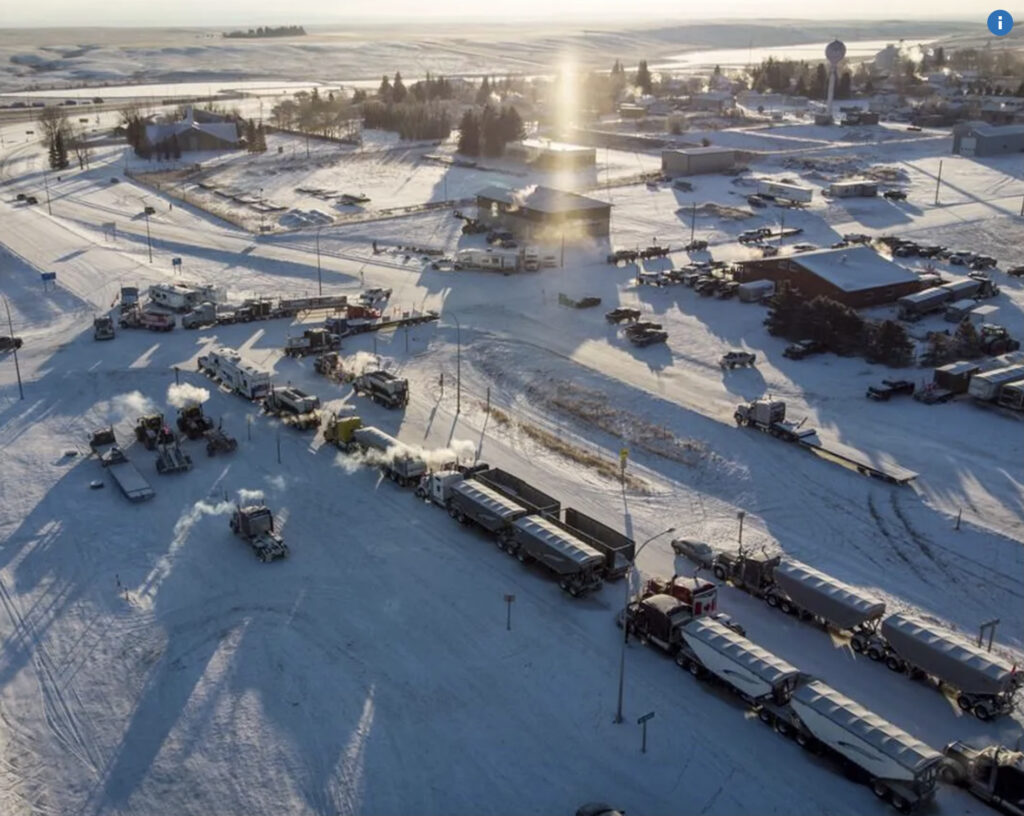 LETHBRIDGE, Alta. – A court was shown a video Thursday of a Calgary pastor encouraging truckers last February to keep blocking a Canada-U.S. border crossing to protest COVID-19 restrictions because the world was watching.
Artur Pawlowski is on trial in Lethbridge, Alta., on charges of breaching a release order and mischief for inciting people to block public property at the border crossing at Coutts, Alta.
He is also charged under the Alberta Critical Infrastructure Defence Act with wilfully damaging or destroying essential infrastructure.
The blockade that began in late January 2022 paralyzed Alberta's main U.S. border crossing for more than two weeks.
Several people were charged in mid-February after RCMP found a cache of long guns, handguns, body armour, large amounts of ammunition and high-capacity magazines in three trailers. Four men were charged with conspiracy to commit murder.
Other charges related to violating COVID-19 protocols dating back nearly two years against Pawlowski were stayed by the Crown in December.
The Crown's case against Pawlowski consists of an agreed statement of facts and the 20-minute video of the speech that the pastor gave to protesters on Feb. 3, 2022.
In it, Pawlowski pleads with truckers to stay the course and not leave the protest, which was aimed at COVID-19 restrictions and vaccine mandates.
Pawlowski visited the group at Smuggler's Saloon, a location that became their headquarters. At the time, protesters were considering whether to leave Coutts for Edmonton to demonstrate in front of the legislature.
"I believe that the eyes of the world are fixed on this place right here. That's right — this little pitiful piece of land," Pawlowski told a cheering crowd in the video played for provincial court Judge Gordon Krinke.
"The eyes of the world are fixed right here on you guys. You are the heroes. Don't you dare go breaking the line.
"For the first time in two years, you have the power. You pack your stuff, you go to Edmonton and you will be lost."
In his closing argument, prosecutor Steven Johnston said political motivation had nothing to do with the case.
"If it does, we go down a very dangerous road where we start asking people about values in context of criminality."
Johnston said there are several examples during Pawlowski's speech where he broke the law and incited protesters in Coutts to stay.
"He came and went as the wind. But he came down with one apparent purpose … to give a speech to encourage the continuation of the crime," he said.
"It's a crime and that's the end of the analysis."
Pawlowski's lawyer said her client was only expressing himself and wasn't telling anybody to do anything.
"This speech, on balance, when you take the full context, is not calling for violence. It is constitutionally protected," said Sarah Miller.
"It does not meet the requisite burdens of proof … and it does not show Mr. Pawlowski counselled interference with the highway."
Pawlowski was greeted by about 300 supporters outside court Thursday before the trial. Some held Canadian flags and signs reading "Free Pastor Pawlowski."
He told the group he had no regrets.
"I told the people this is a peaceful uprising. No guns. No swords. I stand by what I said a year ago," he said outside court.
"I am proud that I stood with the people that simply stood for their God and state. Our rights do not belong to the politicians or bureaucrats or even judges or Crown prosecutors. They belong to us, the people."
The trial is to wrap up Friday. The judge indicated he plans to reserve his decision.
This report by The Canadian Press was first published Feb. 2, 2023.