Easter Festival for Homeless
Street Church Ministries feels privileged to be hosting another festival for the homeless, and anyone who is willing to fight for the poor, oppressed and unwanted.


When: Easter Sunday, April 16th 2006
Where: Triangle Park (across from the Drop-In Centre)
Time: 7:00pm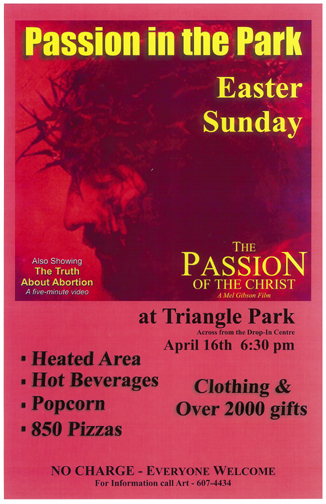 This festival will be similar to the last outreach event we did at Christmas, but with a strong emphasis on the cross. There will be a Theatre play, worship band, movie on the big screen playing The Passion of the Christ (by Mel Gibson) (visit Movie in the Park for more information), a short clip on prolife, the Lord's supper, and the full gospel will be presented with a call to follow Jesus. We will provide over 1000 slices of pizza, popcorn, beverages, Bibles, Christian books, and we have over 2000 gifts to give away.
Street Church would like to invite all Christians to get involved to impact our city for Christ. We need any help that is available for this event. Here are the areas we are looking for help in:
Prayer Intercessors
Councelors
Security
Drama
People to hand out Bibles, food, clothes
Clown for kids
We also need financial support to help us pay for renting the movie screen, the purchase of food, etc.
To volunteer or donate to this festival please email us or call 607-4434.