Bylaw charges dropped against street minister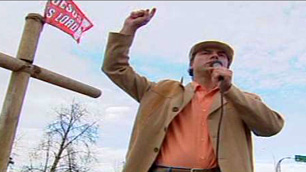 Artur Pawlowski uses a sound system to preach on the streets of downtown Calgary. (CBC)
A street preacher, who uses loudspeakers in public, is now fighting just one municipal bylaw charge after the City of Calgary withdrew 11 other charges against him.
Artur Pawlowski leads a street church that regularly preaches on municipal property in the downtown core, outside city hall, and along the Bow River using loudspeakers to amplify his message. Public complaints led to the city laying charges against him.
On Wednesday, the city decided to proceed with only one charge against Pawlowski, who is scheduled to return to court on July 19.
"It's great. We're very happy, but it's taken five years of prosecution and persecution to get here. The city abused their powers and they lost," Pawlowski told Metro Calgary.