Aldermen reject law limiting protests outside city hall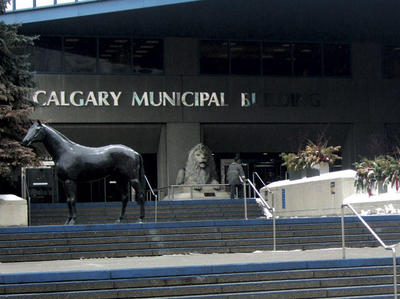 krista sylvester/metro calgary
This spot in front of city hall is a common site for protests.
Strike two.
City administration was ordered back to the drawing board for the second time after city aldermen rejected a proposed bylaw yesterday that would limit protests on the plaza or city hall sidewalks.
Ward 12 Ald. Ric McIver said a proposed bylaw that would have created a "permit zone" if people applied five days in advance was still an infringement of Calgarians' rights.
"We need to make it so we are respecting the rights and freedom of speech of Calgarians," a frustrated McIver told Metro. "We're sending it back again with the same message; make it so we are not infringing on people's rights and freedom of speech isn't a right you need permission for."
While McIver is disappointed the third draft isn't expected back until December — he thinks it should be by June —- he said the public has a message for administration; to "get it right."
Richard Mann said he follows the Street Church Ministry, the leader of which is Art Pawlowski, and hopes their freedom of speech is not taken from them. "I think it's a public street and we as taxpayers should have these basic rights afforded to us," he said.