March for Jesus Calgary 2020!
"May we shout for joy over your victory and lift up our banners in the name of our God. May the LORD grant all your requests." Psalm 20:5
Please join us for the March for Jesus 2020 in Calgary, Alberta. Once again, the march will start at Millennium Park and will end at Olympic Plaza with celebration, praise, worship, and prayer during the march and the celebration to follow at Olympic Plaza.
Psalm 20:5 "We will sing for joy over your victory, And in the name of our God we will set up our banners May the LORD fulfill all your petitions."
We look forward to working with you to make the 2020 March for Jesus equally beautiful and, if God is willing, even more, beautiful than last year. We are asking God to help us to refine anything that needs improving naturally, but we are asking, once again, for God to make this event a work of God, and not merely a work of men.
Jeremiah 51:27 "Raise a banner in the land! Blow the trumpet among the nations!
Please share this event notification with all your friends and family both on Facebook and you through e-mail. You can e-mail them and ask them to click "like" on the Facebook March for Jesus page (http://www.facebook.com/pages/March-for-Jesus/330986356217).
March for Jesus brings Christians of every tradition, age, and color, into the streets to celebrate what Jesus has done and to ask God's blessing on our cities. It is nothing more and nothing less than a joyous celebration of our Lord Jesus Christ.
June 21, 2020 – 1 pm – 8 pm The march starts at Millennium Park and goes to Olympic Plaza where we will praise, worship and exalt Jesus Christ.
For more info contact: [email protected]
If you are interested in volunteering for the March for Jesus 2020, please call 403-607-4434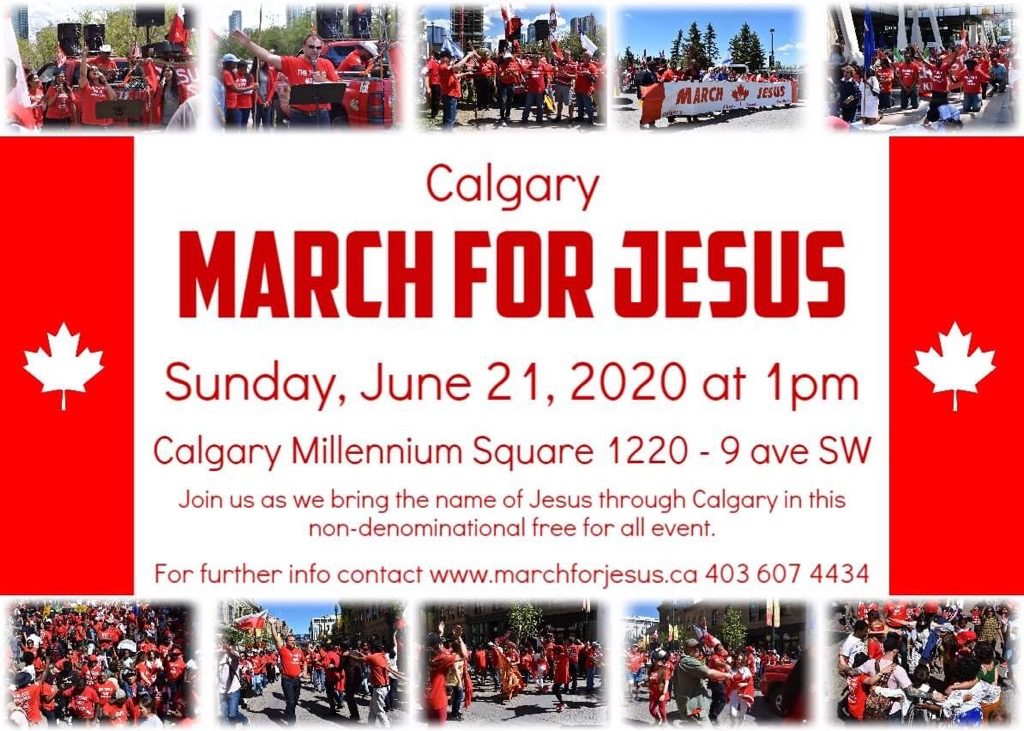 Thank you and God Bless!
Pastor Artur Pawlowski