Canadian pastor released from court order to recite disclaimer when speaking against COVID mandates – CALGARY, Alberta, (LifeSiteNews)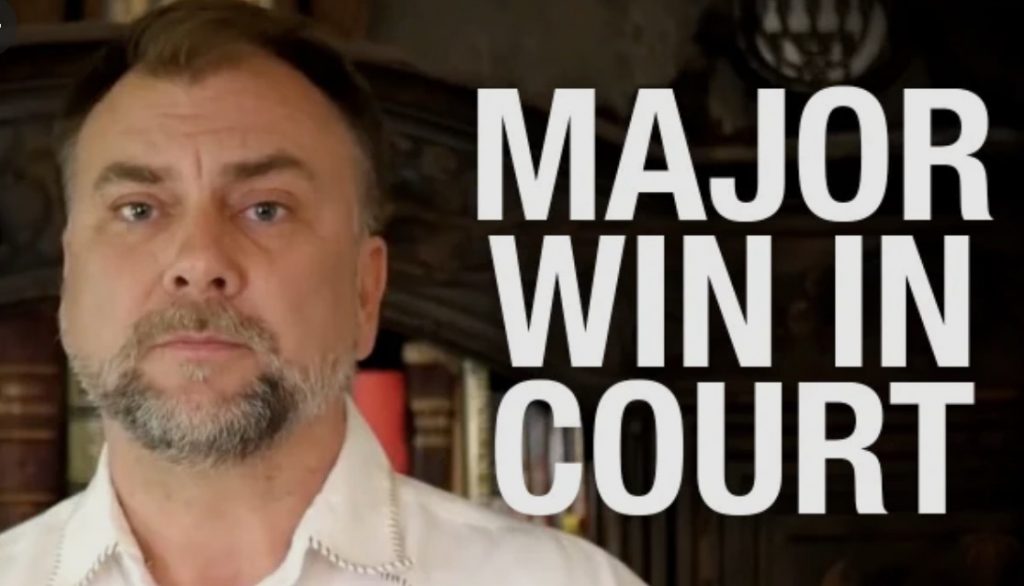 Christian pastor Artur Pawlowski will no longer have to promote the government COVID narrative when speaking against virus rules and vaccines after winning a court appeal.
According to a Rebel News report, on Thursday, Justice Jo'Anne Strekaf of the Alberta Court of Appeal tossed an extreme sentence handed to Pawlowski and his brother Dawid Pawlowski by Alberta Justice Adam Germain in October, that limited their free speech. Strekaf also stayed a travel ban imposed on the brothers.
Germain's order mandated that the Pawlowski brothers – who have been critical of the Alberta governments' COVID rules along with the jabs – had to state official government propaganda regarding the virus each time they challenged government rules in public.
Germain wrote that as a "final" term of his probation order, that Pawlowski and his brother must say COVID jabs "save lives" whenever he speaks out against them.
The order was imposed on October 13, when both brothers were fined thousands of dollars  for having held worship services contrary to COVID lockdown rules.
Pawlowski's lawyer, Sarah Miller, announced soon after that they would appeal the ruling.
Rebel News reported that effective "immediately they (the Pawlowski brothers) no longer have to denounce themselves after any criticism of the government's lockdowns."
According to Rebel News, Strekaf has suspended Germain's ruling against the Pawlowski brothers until June 14, 2022, at which time the main Court of Appeal hearing will take place.
Rebel News reporter Sheila Gunn Reid was live-tweeting the court hearing Thursday. She wrote that it the court heard that Germain was not asked by Alberta Health Services (AHS) to impose the speech and travel ban to the Pawlowski brothers.
"[O]h boy. It was just clarified that AHS did not ask for the compelled speech sanction, nor the travel ban. AHS wanted the Pawlowskis/Scott to comply with current health orders as their sanctions. Plus fines and costs. Judge Germain concocted the insane sanctions on his own. WOW," tweeted Gunn Reid.
According to a Rebel News report, Germain is a "failed Liberal politician who was appointed to the courts by Jean Chretien after he lost his election."
In July, AHS asked the court for a 21-day jail sentence against Pawlowski, claiming he "openly" flaunted COVID rules.
In September, AHS lawyer John Siddons argued that in addition to a 21-day jail sentence, Pawlowski should be fined $2,000 and pay $15,000 in costs. Siddons also recommended Dawid be jailed for 10 days.
In the spring of 2021, Pawlowski, who is a Polish immigrant, made international headlines for calling police and health inspectors making two unannounced health visits to his church "Gestapo Nazis."
Pawlowski and his brother were arrested in a highway takedown in May for holding worship services at their Calgary church amid COVID lockdowns.
The Pawlowski's served three nights in jail before being released on bail.
However, they were arrested under an order made in May by Alberta Chief Justice J. Rooke that did not apply to them.
Rooke's order, however, was made for Chris Scott, the owner of the Whistle Stop Café who had been operating in defiance of COVID rules.
Scott was also fined by Germain and given a compelled speech order and travel ban, which Strekaf removed Thursday.
For much of 2021, Alberta was under strict COVID lockdowns that severely limited the allowable attendance size at churches.
The province has also enacted a vaccine passport, despite Premier Jason Kenney earlier promising he would not do so.
All of the COVID jabs approved for use in Canada are still experimental, with clinical trials not being completed until 2023. Many people do not want to take COVID shots because they are not proven to be safe. Millions of injuries and thousands of deaths have been reported in connection with the jabs. Meanwhile, many Catholics and other Christians are opposed to the novel medical products because cell lines derived from aborted babies were used in either their development or their testing.