Calgary preacher guilty of mischief for urging truckers to continue Coutts border protest
Artur Pawlowski was also on trial for violating Critical Infrastructure Act and breaching bail conditions
Meghan Grant · CBC News · Posted: May 02, 2023 12:08 PM MDT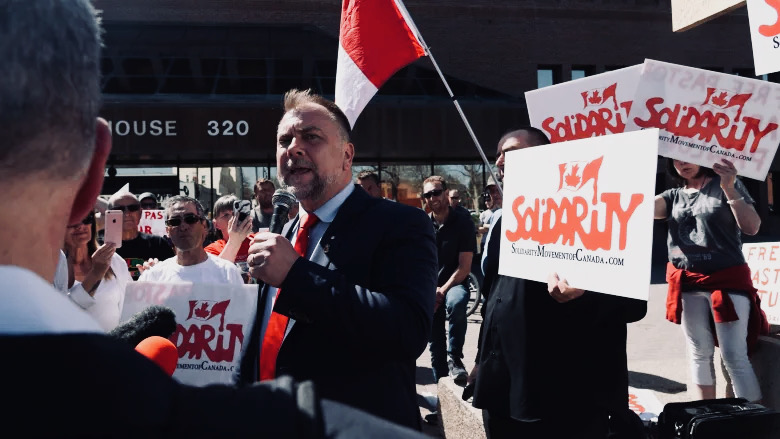 Preacher Artur Pawlowski addresses media and supporters outside the Lethbridge Courthouse on Tuesday after he was found guilty of mischief for encouraging truckers to continue blocking the Canada-U.S. border crossing in February 2022. (Ose Irete/CBC)
Calgary pastor Artur Pawlowski is guilty of mischief for encouraging truckers to continue blocking the Canada-U.S. border crossing during a 2022 protest that lasted more than two weeks, a Lethbridge judge has ruled.
Pawlowski was also charged under Alberta's Critical Infrastructure Defence Act (CIDA) for remarks during a 20-minute speech to protesters in Coutts, Alta. However, the judge has reserved a conviction on that charge.
"Mr. Pawlowski intended to incite the audience to continue the blockade — intended to incite protesters to commit mischief," said Justice Gordon Krinke in delivering his decision Tuesday.
Krinke found the preacher "counselled other persons to interfere with the use of Highway 4 in a manner which rendered it useless." But he said his ruling on willfully damaging or destroying essential infrastructure would have to wait until the defence's constitutional challenge of CIDA has been dealt with.
Lawyers Sarah Miller and Chad Haggarty previously issued a notice to challenge CIDA as unconstitutional.
Pawlowski was also convicted Tuesday of breaching a release order to keep the peace and be of good behaviour.
'I would do it again'
Dozens of supporters decorated the front terrace of the Lethbridge courthouse with signs and an eight-foot wooden cross as they sang, played music over a speaker and handed out T-shirts.
The mood before the ruling was celebratory. Afterward, it turned angry.
As Pawlowski exited the courthouse, supporters chanted "free pastor Art."
"I'm not ashamed of what I did. If I had a chance to do it again, I would do it again, gladly — I stood with the truckers, I stood with the farmers, I stood with Canadians," said Pawlowski to the crowd, promising to pursue an appeal.
"Justice shall prevail."
'Don't you dare go breaking the line'
The bulk of the Crown's case against Pawlowski consisted of the video of the pastor's speech on Feb. 3, 2022, during which he urged protesters to hold their ground.
On that day, protesters made a deal to leave the border crossing and head to Edmonton. In his speech, Pawlowski told them not to give up and said there were not enough RCMP officers to deal with the situation.
"The eyes of the world are fixed right here on you guys. You are the heroes. Don't you dare go breaking the line," Pawlowski said in the video.
The protesters ultimately decided to stay and continue their on-again, off-again blockade.
The defence argued during the trial that Pawlowski was expressing his opinion and didn't incite the crowd to do anything.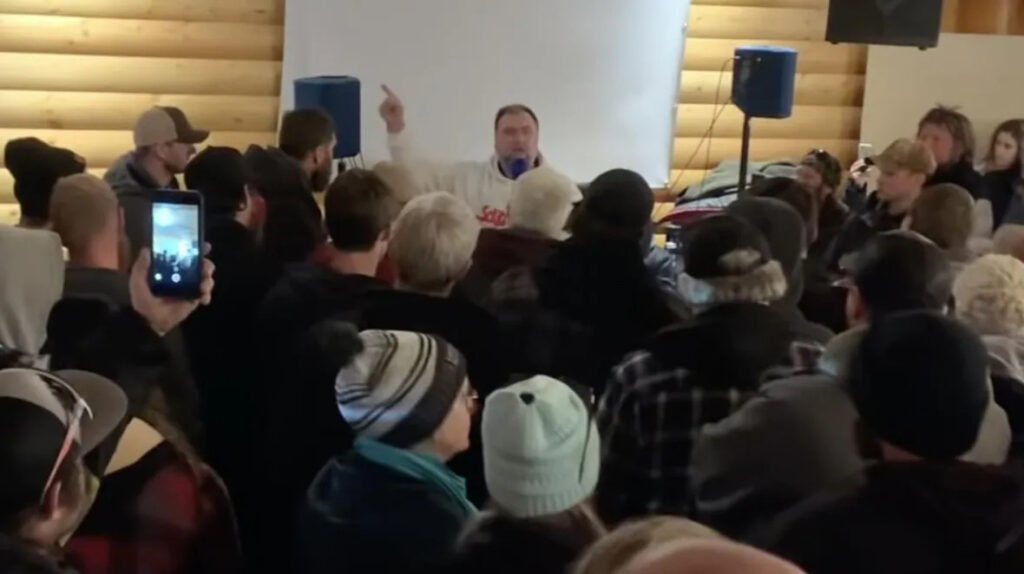 Artur Pawlowski speaks with protesters at the Coutts border blockade in February 2022. (youtube.com/@arturpawlowskitv2689)
Coutts raids lead to arrests
The blockade began in late January 2022 to protest COVID-19 health restrictions. It impeded Alberta's main U.S. border crossing for more than two weeks.
More than a dozen people were charged in connection with the protests and blockade, including four men accused of conspiracy to commit murder.
Pawlowski was also charged with violating COVID-19 protocols nearly two years ago, but the charges were stayed by the Crown in December.
Weeks before his Lethbridge trial, Alberta Premier Danielle Smith and Pawlowski spoke on the phone in a recorded call, which was later leaked.
Leaked phone call
While Smith reminded Pawlowski during the call that she can't intervene directly, she also told him that she is questioning justice officials "almost weekly" about the COVID-related prosecutions.
Smith also promised to make inquiries on Pawlowski's behalf, telling him "leave this with me" and that the charges against him were politically motivated.
CBC News has received a notice of defamation letter sent by lawyers on behalf of Smith, calling on the media organization to apologize for and retract a story published in January relating to alleged political interference in the justice system by a staffer within the premier's office.
The story states that a premier's office staffer sent emails to the Alberta Crown Prosecution Service challenging how it pursued cases connected to the Coutts protests. 
CBC's head of public affairs, Chuck Thompson, said in an email statement at the time that "we stand by our journalism on this story and, if necessary, will defend it in court."