Alberta pastor 'lit a match' with fiery speech at Coutts blockade, prosecutor tells trial
National Post – Artur Pawlowski has pleaded not guilty to mischief and breaching a release order as well as a charge of wilfully damaging or destroying essential infrastructure 
Author of the article: Bill Graveland, The Canadian Press Published Feb 03, 2023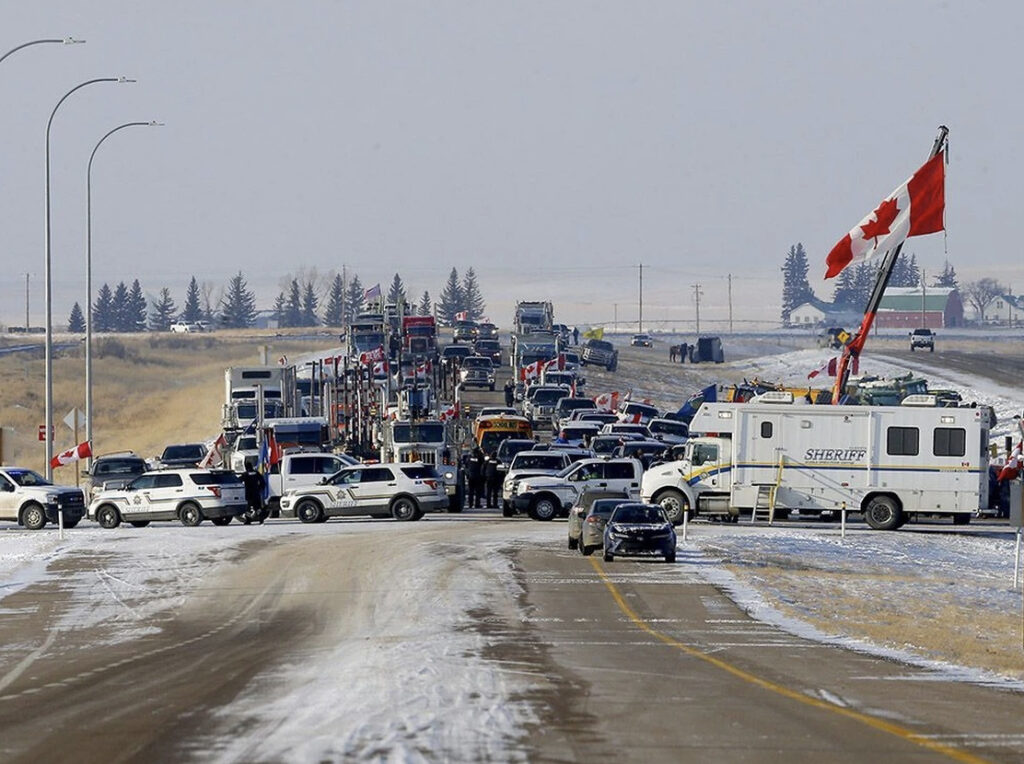 Steven Johnston presented closing arguments Friday in the trial of Artur Pawlowski.
Johnston said Pawlowski knew exactly what he was doing when he spent a day with the truckers involved in the blockade at Coutts, Alta.
The blockade began in late January 2022 to protest COVID-19 health restrictions. It paralyzed Alberta's main U.S. border crossing for more than two weeks.
"He went there … to fire up that crowd, to tell them to hold the line, to tell them not to leave, to tell them stand strong, 'this is our Alamo,"' Johnston said of Pawlowski's visit.
"He went to Coutts, lit a match and left the place."
Pawlowski has pleaded not guilty to mischief and breaching a release order, as well as a charge under the Alberta Critical Infrastructure Defence Act of wilfully damaging or destroying essential infrastructure.
Several people were also charged after RCMP found a cache of guns, body armour and ammunition in three trailers during the blockade. Four men face charges of conspiracy to commit murder.
The Crown's case against Pawlowski consists of a 20-minute video of a speech the pastor gave to protesters on Feb. 3, 2022, urging them to hold their ground.
"The eyes of the world are fixed right here on you guys. You are the heroes. Don't you dare go breaking the line," Pawlowski said in the video shown in court.
Johnston said the pastor's speech was akin to yelling "fire" in a movie theatre.
The prosecutor said Pawlowski also referred to labour strikes in Poland, but the main reason for the pastor's speech was to encourage protesters "hold the line" and continue blocking the border crossing.
"When he says 'here,' he doesn't mean some labour dispute. He's actually in Coutts when that occurred," Johnston said.
"He also referred to Coutts as this 'pitiful piece of land," so we're talking about Coutts."
The defence argued during the trial that Pawlowski was expressing his opinion and didn't incite the crowd to do anything.
Outside court Friday, Pawlowski said he tried to speak with Johnston about the proper pronunciation of his last name.
"This is my last name, so the least you could do an effort, after a year of persecuting an individual, to learn how to pronounce that individual's last name," Pawlowski told reporters.
The trial was put over to Feb. 17, when a date is to be set for a decision.
Pawlowski said he is optimistic about the verdict.
"I believe it went very well. It was a very unusual trial for me because witnesses were not called and the only evidence, if you will, is my sermon in Coutts."
Pawlowski was also charged with violating COVID-19 protocols nearly two years ago, but the charges were stayed by the Crown in December.