Volunteers take church to the street
By Tim Callaway
Calgary, AB – What began as an initiative by a small group of enthusiastic believers in the Stampede city eager to engage in some good, old-fashioned street-corner preaching has blossomed into a weekly gathering for "street people" that is becoming known as the "Street Church".
Each Sunday afternoon at a green-space sandwiched between a downtown drop-in centre and a convenient baptismal tank – otherwise known as the Bow River – an evangelistic team headed by a local chiropractor can be found leading worship for some Calgarians who wouldn't be comfortable walking into a church.
"This is God's doing," chuckles Lawrence Irwin as he reflects on the result of what he believes was a prompting by God to resort to a form of evangelism some might say went out of style long ago. "It is truly humbling to be used by God in experiencing that simply declaring the gospel results in the power of God unto salvation," he told Christian Week.
"It's been more than a year since a group of us first went out on 17th Avenue and began preaching simple messages from God's word," Irwin recalls. "We soon attracted attention of all kinds," he laughs.
"Of course, many were merely curious as to what was going on and came over to investigate for a few minutes before moving on. We've occasionally had some hecklers. One night a couple of police officers asked if we had a permit to be doing what we were doing.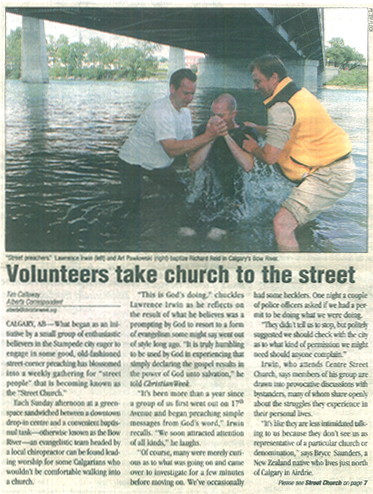 "They didn't tell us to stop, but politely suggested we should check with the city as to what kind of permission we might need should anyone complain."
Irwin, who attends Centre Street Church, says members of his group are drawn into provocative discussions with bystanders, many of whom share openly about struggles they experience in their personal lives.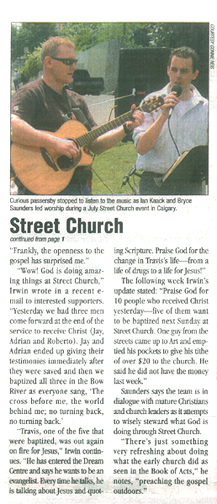 "It's like they are less intimidated talking to us because they don't see us as representative of a particular church or denomination," says Bryce Saunders, a New Zealand native who lives just north of Calgary in Airdrie. "Frankly, the openness to the gospel has surprised me."
"Wow! God is doing amazing things at Street Church," Irwin wrote in a recent email to interested supporters. "Yesterday we had three men come forward at the end of the service to receive Christ (Jay, Adrian and Roberto). Jay and Adrian ended up giving their testimonies immediately after they were saved and then we baptized all three in the Bow River as everyone sang, 'The cross before me, the world behind me; no turning back, no turning back.'
"Travis, one of the give that were baptized, was out again on fire for Jesus," Irwin continues. "He has entered the Dream Centre and says he wants to be an evangelist. Every time he talks, he is talking about Jesus and quoting Scripture. Praise God for the change in Travis's life – from a life of drugs to a life for Jesus!"
The following week Irwin's update stated: "Praise God for 10 people who received Christ yesterday – five of them want to be baptized next Sunday at Street Church. One guy from the streets came up to Art and emptied his pockets to give his tithe of over $20 to the church. He did not have the money last week."
Saunders says the team is in dialogue with mature Christians and church leaders as it attempts to wisely steward what God is doing through Street Church.
"There's just something very refreshing about doing what the early church did as seen in the Book of Acts," he notes, "preaching the gospel outdoors."
Christian Week
August 5, 2005