Street preacher Pawlowski files human rights complaint against City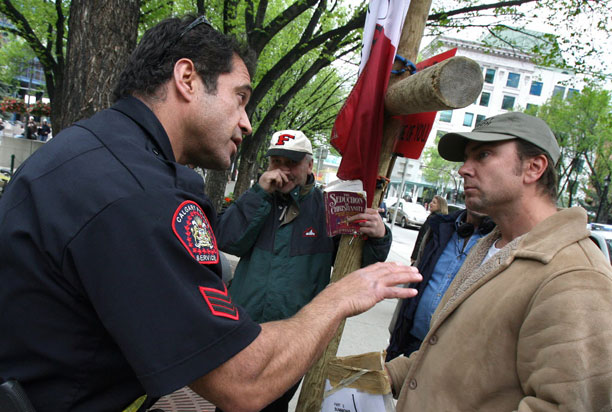 Art Pawlowski listens as Calgary Police Sergerant Les Kaminski explains why he must move his ministry for the homeless in front of City Hall Photograph by: Sarah Lazarovic/Canwest News Service, xx
A Christian street ministry that has been feuding with the city has filed a human rights complaint, claiming it was discriminated against when an application to have a flag raising at City Hall was refused.
Artur Pawlowski of Street Church Ministries accuses outgoing Mayor Dave Bronconnier and the city clerk's office of a religious bias in its refusal to allow the group to hold a ceremony and deny a bid to have Bronconnier declare the following December Jesus Month.
In its refusal, Pawlowski said the city and mayor argued the church did not meet the criteria for either a flag raising or a proclamation because of a policy against issuing proclamations or raising flags for a specific religion.
But Pawlowski complained the city's own actions indicate the opposite. In his complaint, he cited previous occasions where special declarations were made for other religions, such as Sikh Awareness Week. He also pointed out that the city declared Pride Month, recognizing homosexuals, a few months before his group applied for a flag raising and proclamation.
"It is obvious from any unbiased observer that the mayor and the city has chosen to discriminate against Christians and against our beliefs," said Pawlowski in a news release.
A spokesman for the city could not be reached for comment.
In a letter to Pawlowski, the Alberta Human Rights Commission said it has accepted his complaint that goods and services were refused on the grounds of religious beliefs. The commission wrote that it will try to resolve the dispute and has asked the city to provide a written response to the complaint.
Pawlowski's street church has been the subject of noise complaints for its public preaching to the homeless. It has been in a protracted battle with the city that included a slew of bylaw charges, some of which went to trial and are awaiting a judge's ruling.
Read more: from the original article on the Calgary Herald website