Published march 12, 2008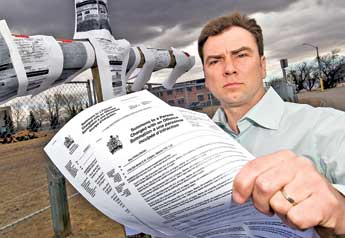 Preacher claims city violated human rights
Calgary street preacher Artur Pawlowski believes his civil rights have been trampled after 39 citations for 12 violations he believes prevent him from ministering to and feeding thousands of Calgary's homeless each year.
The City of Calgary and Mayor David Bronconnier have been named in the complaint. Mayor Dave Bronconnier and the City of Calgary have been slapped with a human rights complaint filed by a local street preacher.
Artur Pawlowski filed the human rights complaint on Monday, also naming city bylaw boss Bill Bruce and parks manager Michael Kenny, doing so on behalf of the Street Church Ministries and Calgary's homeless population. "The biggest problem is the city is making it seem like we are breaking the law, which we aren't, when they are breaking the law. It is our fundamental right to lead a peaceful assembly," Pawlowski told Metro exclusively.
He preaches to and feeds the homeless and has been fighting the city for two years. "We're just trying to help feed the homeless, they are lined up every day and they are hungry people. It is my right to feed these people, I can't let them starve on the street," he said, adding they fed more than 100,000 homeless last year.
In documents obtained by Metro, the complaints are based on religious beliefs and video footage from a violations was attached stemming from a June 8, 2007 incident.
City bylaw manager Bill Bruce said the infractions came after efforts to work with the ministry turned sour. "We have given multiple summons and tickets because there was never any correction of the behaviour. They have to work within the rules and regulations that everyone else has to follow," Bruce said Bruce said he hasn't been served with the complaint yet and will reserve comment, noting Pawlowski has the right to tell his story in court.
Pawlowski has affidavits from city bylaw officers contradicting claims that the ministry violated any laws. "I don't care what the outcome of the human rights violation is. I just want people to know we aren't breaking the law. It's like the city is becoming a dictatorship," he said.
Calls to the City of Calgary and the mayor's office were not returned [email protected] Krista Sylvester/Metro Calgary
Pawlowski has received 39 violations for 12 infractions, including attracting a crowd and placing a sign in a park.