Street Church Brings Hope to Homeless
A few blocks away, the towering downtown office buildings reach for the sky – a symbol of power and prosperity in the city.
On a daily basis luxurious cars – some valued as much as many modest homes in other parts of the country – speed by the inner-city park as people head for work and for business in Canada's growing economic mecca.
For the most part, Calgarians in their expensive cars and office towers have no idea of the daily drama that occurs at the infamous Needle Park near the Bow River and across the street from the Calgary Drop-In Centre.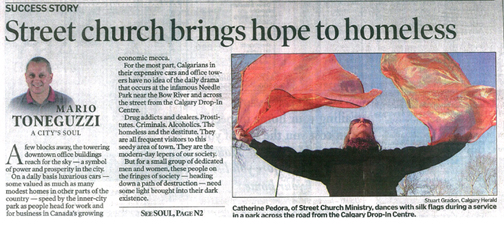 Drug addicts and dealers. Prostitutes, Criminals. Alcoholics. The homeless and the destitute. They are all frequent visitors to this seedy area of town. They are the modern-day lepers of our society.
But for a small group of dedicated men and women, these people on the fringes of society – heading down a path of destruction – need some light brought into their dark existence.
For the past year, these volunteers have brought their street church ministry to offer hope to those who have long given up on hope.
"I believe with all my heart that we have the answer for homeless in the city. And I believe in this country," says 32-year old Art Pawlowski, who, with a team of committed volunteers, a minister to the poor living on the streets of Calgary.
"What men need is hope. The homeless have lost hope. Drug addicts and alcoholics have lost hope."
The Street Church Ministry began more than three years ago with three people heading out on the streets and handing out religious information. They were not very successful. Two years ago in the winter, they took public address systems with them and started preaching the word of God to the homeless. The ministry took off from there.
"What triggered it was the message of hope," adds Pawlowski. "When you start speaking about hope and they hear it, it triggers something in their hearts. And they say, 'Hey those people used to be drug addicts, they used to be prostitutes, they used to sleep on the streets. And now they are a living testimony that it can be different.' Tomorrow can look different than today."
Most of the volunteer preachers are those with a past who have turned their lives around – like Pawlowski, who used to be a smuggler of alcohol in communist countries in Europe.
Today, they have Monday night evangelism at eight locations downtown. On Sundays, there is a service for the homeless at 2 p.m. in Needle Park. The service has been taking place now or eight or nine months.
Pawlowski says more than 1,000 people have converted to Christianity in the last year and set their lives in a new direction. Many have experienced water baptism in the Bow River.
He says many of the homeless feel like their lives are not worth living any longer. But the ministry offers a multitude of stories of people who came to the edge and almost jumped off the cliff to escape the travails of this world. But they hear the message and their lives changed.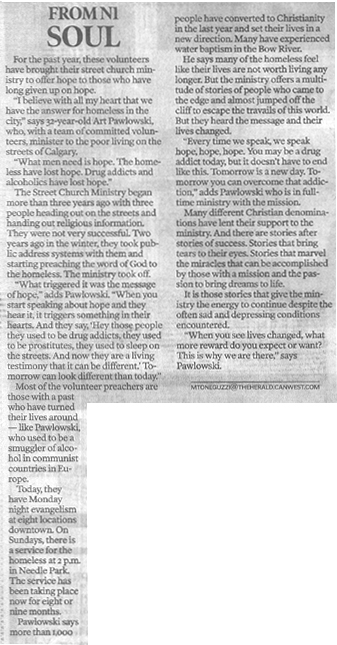 "Every time we speak, we speak hope, hope, hope. You may be a drug addict today, but it doesn't have to end like this. Tomorrow is a new day," adds Pawlowski who is in full-time ministry with the mission.
Different Christian denominations have lent their support to the ministry. Every day Pawlowski says there are people who are depressed and desperately need someone to help them. The passionate street ministers offer them something more in life. They tell the homeless to grab that hope of tomorrow and walk with it.
There are stories after stories of success. Stories that bring tears to their eyes. Stories that marvel the miracles that can be accomplished by those with a mission and the passion to bring dreams to life. It is those stories that give the ministry the energy to continue despite the often sad and depressing conditions encountered.
"When you see lives changed, what more reward do you expect or want? This is why we are there," says Pawlowski.
Mario Toneguzzi
A City's Soul
Calgary Herald – Neighbours
February 2-8, 2006