Calgary street preacher accused of making too much noise acquitted again
By Daryl Slade, Calgary Herald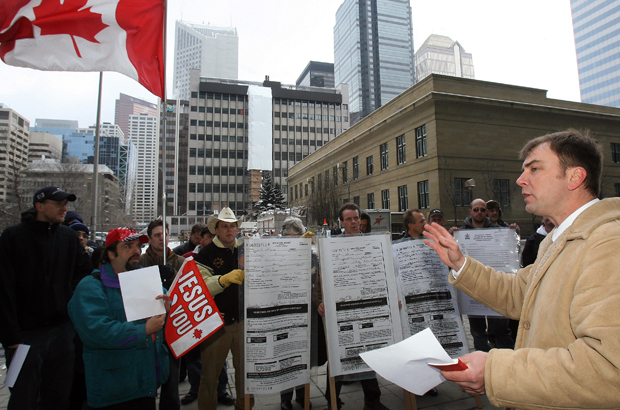 Artur Pawlowski and his supporters gather outside of the Calgary Courhouse in 2008.
Photograph by: Archive, Calgary Herald
CALGARY – A second provincial court judge in a year has acquitted Street Church Evangelism of breaching City of Calgary bylaws for illegally using an amplification system, displaying signs and setting up a barbecue or stove to feed homeless people in a city park.
Judge Anne Brown said in her ruling on Monday that church founder and preacher Artur Pawlowski's freedom of expression was violated when the church was charged for bylaw infractions on Dec. 23, 2007, March 23 and April 7, 2008, in Triangle and Simmons parks just east of the downtown Drop-in and Rehab Centre.
She found the church not guilty on eight of nine charges. The only guilty verdict was for placing an electrical cord across a public sidewalk, an infraction to which defence lawyer Michael Bates had conceded.
The judge then gave the church a nominal $1 fine.
"The mandate of Street Church is bound on individuals' sincere belief in Christian teachings; that "Love is action," in the words of Mr. Pawlowski, said Brown.
"That sincere belief has a clear nexus with religion and requires an adherence to the poor and wretched, feeding and clothing the hungry and destitute, transmitting a message of love and hope. The impugned bylaw cuts at the heart of the Street Church."
Brown, however, did not go quite as far as Judge Allan Fradsham did in his decision, in which he said the church's freedom of religion itself was also breached.
That decision currently is under appeal to Court of Queen's Bench and is awaiting decision by Justice Robert Hall.
"The Street Church is pretty much vindicated again," Pawlowski said outside court.
Pawlowski said he has always felt the bylaws were not constitutional and not fairly applied and wanted to sit down with the city to make them workable for everybody.
"I think they're ready to sit down and talk," he said. "From our part, we were always willing back to 2006 to talk. But it was always their way or the highway."
City lawyer Ola Malik, who prosecuted the case, said outside court he could not comment until he has received and thoroughly reviewed a written copy of Brown's oral decision.
Bates said he will take the court's ruling back to the city when the church again applies for use of amplifiers at a park, for which it was prohibited from doing three years ago.
"Right now, as opposed to the regular citizen, he has to get relaxation for the court order (by Queen's Bench Justice Bonnie Rawlins)," said Bates. "We want to get it back to where he doesn't need a lawyer to do this."
Malik argued at trial the reason Pawlowski and his church were prohibited from using amplification systems in his 2007 permit for his gatherings at Triangle and Simmons parks, was because of noise complaints from residents and other members of the public.
It was not, he said, intended to curb either the preacher's religious rights or freedom of expression.
Bates has argued his client picked Triangle Park because that's where the most disadvantaged people – drug dealers, prostitutes and the homeless – are located. Without using a sound system, he added, his freedom of religion was breached because the number of followers were drastically reduced.
Pawlowski also produced a letter from the city after the decision that indicated it had withdrawn charges against him and the church for handing out pamphlets at the Centre Street C-Train platform about a month ago.
Triangle Park has since been paved over as part of the city's major redevelopment plans in the area east of the downtown. Pawlowski now continues to hold religious services on the front of city hall four times a week.
Read more: http://www.calgaryherald.com/news/Calgary+street+preacher+accused+making+much+noise+acquitted+again/3759623/story.html#ixzz143yH4KzE