Calgary church loses charitable status for its "non-partisan political activities"
Charles Lewis, National Post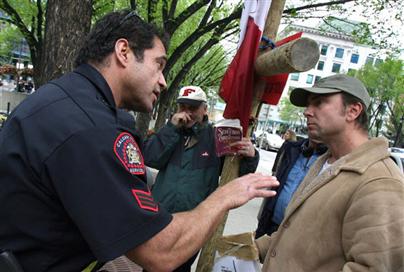 A Calgary church has lost its charitable status in part because it spends too much of its time advocating on social issues such as abortion and marriage.
In October, the Kings Glory Fellowship Association, a non-denominational Protestant group, was told by the Canada Revenue Agency (CRA) that for several reasons, including a lack of clarity on how it spends it money, they could no longer issue charitable receipts.
But the letter highlighted that the group spent more than 10% of its time on "non-partisan political activities and therefore strayed into activities "outside its stated purpose."
"We note … the members of the Board of Directors espouse strong negative vies about sensitive and controversial issues, which may also be viewed as political, such as abortion, homosexuality, divorce, etc."
The CRA allows charitable organizations to spend some time on "political activities," but the cutoff is 10%. A spokesman for the CRA was not immediately available to explain how the percentage of time a group spends on non-charitable works is determined.
Artur Pawlowski, the head of the Kings Glory Fellowship, said his group "has nothing to do with politics and we do not advertise for a party or a candidate. The only political activity you can connect us to is defending our right to speak."
Mr. Pawlowski said the primary mission of his church is to feed homeless people. He said this group supplies food for about 150,000 a year, mainly to people "that no one else wants to deal with."
"When we feed people we don't care whether they are homosexuals or have had abortions or been divorced but we preach what the Bible says about those issues."
He said the financial issues are just a "smoke screen" and the real agenda is to "keep us quiet." Mr. Pawlowski also noted that his church has never been audited by the CRA.
Mr. Pawlowski and his group have a long and loud history of dealing with Calgary officials. In 2007 he was arrested for obstruction and littering after attempting to preach the Gospel at a alternative theatre festival. The case was thrown out.
Then last year Mr. Pawlowski went to court to argue against being fined for using a microphone at outdoor events to raise awareness about homelessness. A court ruled on Dec. 7 that tickets violated his freedom of speech.
Mr. Pawlowski's fight against the city was referenced in the CRA documents. Mr. Pawlowski argued he was the victim of a double-standard, issuing a press release that said officials tolerated some special-interest groups but not others.
"Calgary officials are so on fire for 'tolerance' when it comes to left wing minority groups to the point of flying the flag of the homosexual community on masts in front of City Hall," Mr. Pawlowski wrote.
The release also said that police protect the "peaceful protests of homosexuals … marijuana activists … and neo-Nazis … yet they have done just about everything to shut down this peaceful ministry that cares for the underprivileged."
The CRA noted the release "seems to connote a strong political stance."
Mr. Pawlowski said it was not a political statement but a plea to understand "why the city was treating his group unfairly."
A number of religious groups, including the Roman Catholic Church and the Salvation Army, all take strong stands against what they see as immoral activities.
Fred Henry, Catholic bishop of Calgary, called the CRA move against Mr. Pawlowski and his group "the height of hypocrisy."
"[Mr. Pawlowski] and his people are dealing with people who no one else seems concerned about. He takes care of their physical and spiritual well being. But because of the noise and speakers he used, the city put him through the wringer."
"From the letter he wrote to the city, the CRA concluded he was involved in politics. What the CRA needs is to have a seminar about religious liberty. They don't seem to get what religion is about. It starts with worship but it doesn't end there. Religion cannot be privatized. It has the right to influence public affairs."
Bishop Henry has a history with CRA. In 2004, tax officials said that he crossed the line when he sent a pastoral letter that said then-prime minister Paul Martin's support of abortion and same sex marriage were a source of scandal in the Catholic community and reflected a "fundamental moral incoherence." Tax officials asked him to remove the letter from his website but he refused. The tax-free status of the Church was not removed but he was personally subjected to an audit. "They found out they owed me $70."
"The incident was clearly meant to muzzle religious leaders," Bishop Henry said.
National Post
[email protected]