2010 a year of curious cases in provincial courts 2010 Year in Review
2010 Year in Review
By Daryl Slade, Calgary Herald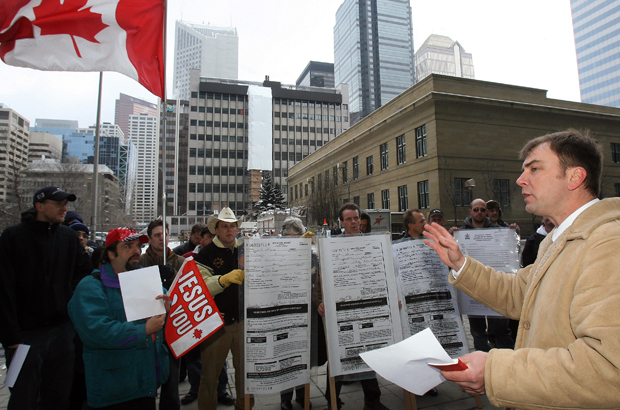 Artur Pawlowski and his supporters gather outside of the Calgary Courhouse in 2008. Photograph by: Archive, Calgary Herald
When Russell Hugh McDougall arrived at his Citadel home in the early hours of Dec. 5, 2009, he was greeted by flames.
While his neighbours slept, Mc-Dougall tried to rescue his dogs from the fire before fleeing.
Investigators later determined the blaze, which caused $5 million damage and destroyed five homes, was caused by an electrical malfunction associated with a marijuana grow operation in the basement.
McDougall, after pleading guilty to arson by negligence, was sentenced in July to seven years in prison.
It was one of many intriguing cases resolved in Calgary provincial court in 2010.
– Adrian E. Brand (April 27)– A man with a lengthy history of violence against women was declared a dangerous offender after stabbing Sandra Hughes 18 times and leaving her for dead in her northeast home on Oct. 30, 2006. Brand, 50, faces an indefinite prison sentence as a result of the near-fatal assault.
– Mark Christopher Nickel (Sept. 13) — A father pleaded guilty to placing his nine-month-old daughter's feet in a pot of hot water that had earlier been boiled to sterilize baby bottles, because he wanted "to see her reaction." He is to be sentenced Jan. 25.
– Garry Wayne Todd (Dec. 16) — A 56-year-old man with an extensive record for sexually abusing children and producing child pornography was handed a 15-year sentence and declared a long-term offender, meaning he will be supervised in the community for 10 years after release. Todd pleaded guilty in 2008 to repeated sexual assaults on a girl that began when she was eight-years-old.
– Dean L. McClelland (Dec. 8)– A man who burned down his former spouse's rented home after she obtained a restraining order against him was sent to prison for five-and-a-half years.
– Steven Craig Smith (Nov. 12) — The former cook at the River Cafe on Prince's Island was placed on probation for three years for taking cellphone videos of his co-workers in the staff washroom. Smith, 37, pleaded guilty to the rarely used voyeurism charge for the incidents.
– Olaronke Fakunle (July 7) — The former accounts payable clerk with STARS air ambulance pleaded guilty to stealing $210,600 from her employer, for whom she worked in 2007 and 2008. Fakunle, 40, is to be sentenced Jan. 31.
– Artur Pawlowski (Nov. 1) — For the second time in a year, an evangelist street preacher was acquitted of breaching city bylaws when he used an amplification system, displayed signs and set up a barbecue to feed the homeless in 2007 and 2008. The judge ruled that Street Church Evangelism's freedom of expression was violated when Pawlowski was charged for bylaw infractions in Triangle Park and Simmons Park.
– Peter Hofer (May 3) — A senior who sought investors for an alleged cure for mad cow disease was sentenced to two years for defrauding family and friends of $251,815. Hofer, 65, had pleaded guilty to nine charges related to the 2005 frauds.
– Bradley K. Bergman (April 19) — Became the first person in Calgary banned from owning pets for a maximum of 10 years since changes to the Criminal Code in November 2008. Bergman, 56, tried to hang his common-law spouse's corgi Buddy. He also assaulted his spouse and a police officer. He was sentenced in March to seven months in jail.
– Robert Ogle (Feb. 1) — Sent to prison for five years for using false identities on the Internet to get underage co-workers to send him sexually explicit pictures of themselves. Ogle, 25, had pleaded guilty to five charges for luring three girls under 16 who worked with him at a Calgary grocery store and making child pornography.
The incidents occurred between 2004 and 2009. Police found more than 70 naked images of one girl and 57 of another on his digital camera and computer.
Read more: http://www.calgaryherald.com/news/2010+year+curious+cases+provincial+courts/4044508/story.html#ixzz19oqRyBKP