Pastor Artur Pawlowski Found Guilty of Mischief After Speech to Freedom Convoy Truckers in Coutts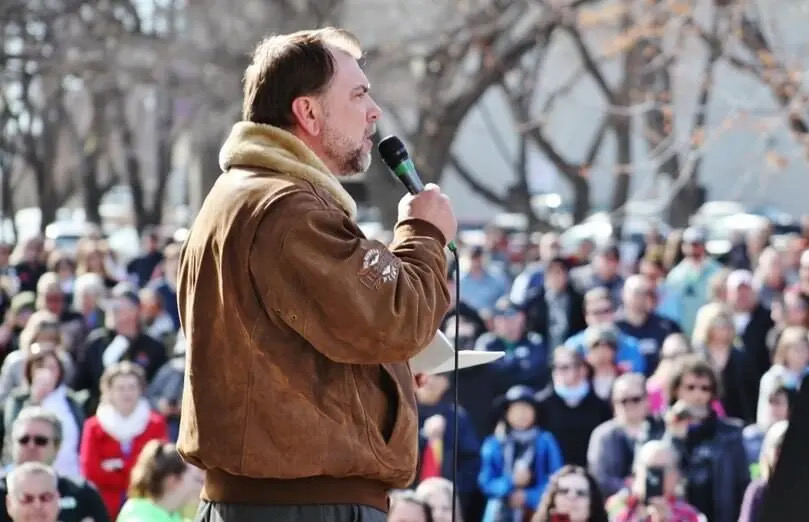 Artur Pawlowski speaks at a "freedom rally" in Edmonton on March 20, 2021, part of a worldwide protest against COVID-19 restrictions. (Courtesy of Artur Pawlowski)
By Matthew Horwood 5/2/2023
Calgary pastor Artur Pawlowski has been found guilty of mischief for encouraging truckers to continue their blockade of the Coutts Canada–United States border crossing during the Freedom Convoy protest, a Lethbridge judge has ruled.
"Mr. Pawlowski intended to incite the audience to continue the blockade," said Justice Gordon Krinke in delivering his decision on May 2.
Pawlowski was charged both criminally and under Alberta's Critical Infrastructure Defence Act (CIDA). In addition to his mischief charge, Pawlowski was convicted of breaching a release order and wilfully damaging or destroying essential infrastructure.
While Krinke also found Pawlowski "counselled other persons to interfere with the use of Highway 4 in a manner which rendered it useless," he has decided not to issue a conviction until a defence's constitutional challenge to CIDA has been dealt with.
Crown prosecutors argued that during the Freedom Convoy in February 2022, Pawlowski's 20-minute speech to truckers in Coutts, Alberta, convinced them to dig in at the Canada–U.S. border crossing for another two weeks. The blockade began in January 2022 as a protest against COVID-19 vaccine mandates for truck drivers.
On Feb. 3, 2022, after protestors had made a deal to leave the border crossing and travel to Edmonton, Pawlowski urged them to stay. "The eyes of the world are fixed right here on you guys. You are the heroes. Don't you dare go breaking the line," Pawlowski said.
The protesters then decided to stay at the blockade for two more weeks. Pawlowski's lawyers argued during the trial that the pastor was merely expressing his opinion and did not incite the crowd to do anything.
Pawlowski was also charged with violating COVID-19 public health restrictions nearly two years ago, but the charges were stayed by the Crown in December 2022.
Shortly before his trial, Pawlowski said if he were found guilty, then it would mean that "Canada is no longer officially a democracy, it becomes a totalitarian police state." Pawlowski said a guilty conviction could also mean politicians are subject to the same charges.
"Imagine a pastor giving a passionate speech in a church sermon. He could be liable. Imagine a politician who comes in front of the people and says passionate things that the government doesn't like. He could be liable. So the implications are unbelievable if I'm guilty," he said.
https://www.theepochtimes.com/world/pastor-artur-pawlowski-found-guilty-of-mischief-after-speech-to-freedom-convoy-truckers-in-coutts-5237260?campaignid=19918963917&adgroupid=&adid=&gclid=Cj0KCQjwrfymBhCTARIsADXTabmMoGvkMd9P3mDW_fFx8oLdnkb9uCbDTkxnTtMClCR5wA6eRvEVLasaAkGpEALw_wcB