NDP calls on United Conservative MLAs to denounce Artur Pawlowski's views
The Alberta NDP is calling on United Conservative Party MLAs to denounce the inflammatory views of a Calgary street preacher 
Matthew Black Published Apr 05, 2023 Edmonton Journal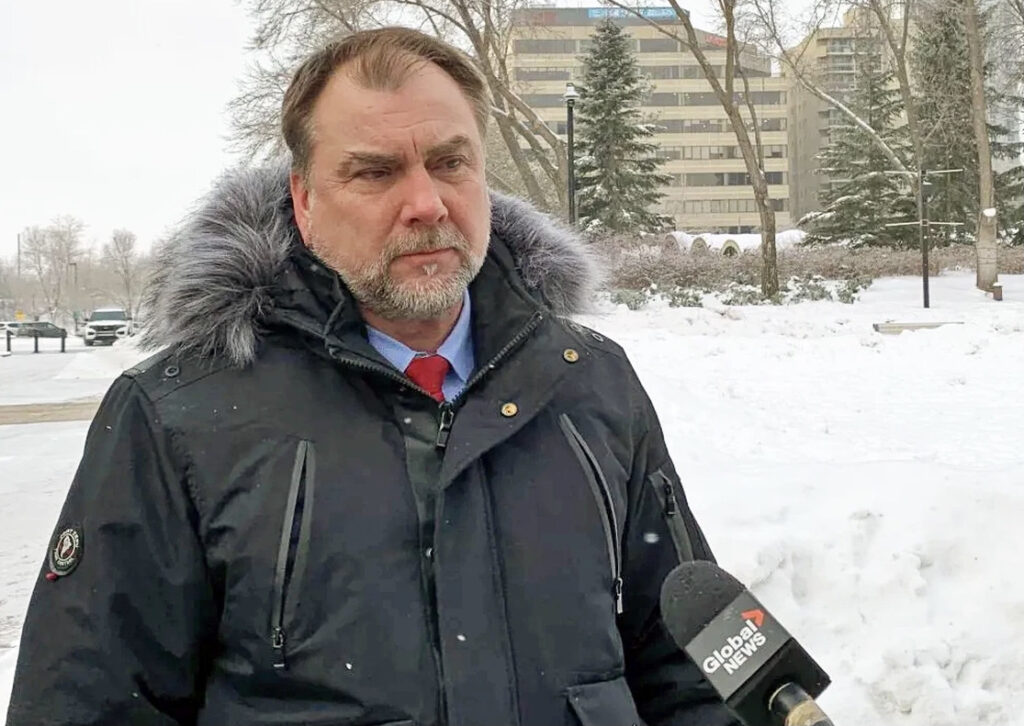 Street preacher and political activist Artur Pawlowski speaks to reporters outside the Alberta legislature in Edmonton, Thursday, Jan 12, 2023. PHOTO BY LISA JOHNSON /Postmedia
The Alberta NDP is calling on United Conservative Party MLAs to denounce the inflammatory views of a Calgary street preacher, with one cabinet minister already declining to do so.
Opposition Justice Critic Irfan Sabir said Wednesday that UCP MLAs must denounce the view of Artur Pawlowski. He's the Calgary pastor captured on video while on a phone call with Premier Danielle Smith in January, just weeks before he was scheduled to stand trial on criminal charges.
Sabir produced a video Wednesday of a speech Pawlowski gave near Coutts in February of 2022 where he told those in attendance he had lost count of the number of charges he was facing and for them to "rise up and start roaring."
"Thousands upon thousands of people are coming. They don't have enough RCMP officers to deal with that," he said.
"Those people don't play fair. They're coming here with their badges and they're telling you they represent the law. No … they represent lawlessness. They are gangsters for the biggest mafia that there is, (Jason) Kenney's mafia."
Pawlowski is charged with breaching a release order and mischief of inciting people to block public property at the Coutts border crossing. The trial was held this February but a verdict is not expected until next month.
He became known in the early days of the ongoing COVID-19 pandemic after refusing to follow public health measures, and later being arrested at a protest outside of Health Minister Jason Copping's home.
Years earlier, he expressed homophobic views including that homosexuals were led by Satan and that homosexuality was in part the cause of the 2013 Calgary flood, saying God was "weeping for the perversions of homosexuality."
'A single second of her time'
In calling for government MLAs to renounce those views, Sabir said the pastor's prior comments speak for themselves.
"This is Artur Pawlowski in his own words, showing everyone exactly who he is," he said.
"Danielle Smith owes Albertans an explanation for why this extreme individual facing criminal charges got a single second of her time."
At a different news conference Wednesday, Municipal Affairs Minister Rebecca Schulz deferred comment to the premier's office when asked by reporters if she would denounce Pawlowski.
"The premier has already spoken to that she's provided context. She has explained her situation to Albertans and I don't have any other additional comments to make."
The premier's office didn't immediately respond to a request for comment.
On Monday, Smith didn't directly answers questions from reporters about how appropriate it was for her to have been speaking to Pawlowski ahead of his trial.
"I have the ability to seek advice from my justice officials, it's actually part of their job," she said. "The advice that I received from my justice officials is that there were several court actions that were taking place and until they were resolved before the court, no further action could be taken. I followed this advice."
The NDP have called for an independent judicial investigation and have also written to the ethics commissioner.
The premier's office has already rejected the call for an investigation, citing an internal review of emails that it claims shows no evidence of improper contact with prosecutors.
Details around the scope of that review are scarce and the investigation appears not to have included deleted emails dating back to October.
Smith is scheduled to hold a news conference in Brooks early Thursday.
Twitter @ByMatthewBlack