Street preacher banned from Stampede parade
By KEVIN MARTIN, Calgary Sun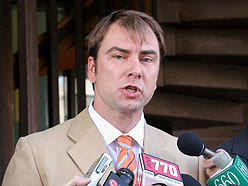 Citing concerns over the safety of the thousands along the route, a Calgary judge has barred street church minister Artur Pawlowski from disrupting Friday's Stampede parade.
Justice Bonnie Rawlins on Thursday agreed with Stampede lawyer David Steele an injunction against Pawlowski was warranted.
Steele told court there were safety concerns after Pawlowski threatened to disrupt the annual event after being told his group couldn't march in this year's parade.
"He has threatened repeatedly that he is going to protest and he is going to disrupt the Calgary Stampede parade," Steele told Rawlins.
"He is going to do whatever he can to disrupt the Stampede parade."
Rawlins said while she wouldn't bar Pawlowski from exercising his right to protest the event, he is prohibited from doing anything that will interrupt the march or interfere with anyone's enjoyment of the parade.
"The safety of the citizens of Calgary and those people who come to the parade has to be the number one concern," Rawlins said.
Lawyer Michael Bates suggested Pawlowski's threats to interfere with the parade were taken out of context by Stampede officials and uttered during the heat of talks to reinstate his group in the even.
He said Pawlowski met with police in charge of parade security and said he will do nothing to jeopardize the safety of parade watchers.
But Rawlins said unlike others who could potentially disrupt the proceedings, Pawlowski uttered actual threats to officials.
"I'm not prepared to take that chance (Pawlowski will uphold his promise to police)," she said.
In affidavits presented to the Court of Queen's Bench judge by Steele, two Stampede officials said Pawlowski made veiled threats to interfere with the march.
Parade committee chairman David Swanson said during a June 23, meeting Pawlowski made several comments including "you never know what can happen," and "even a peaceful protest can be unsafe."
Steele noted the potential for carnage is great when considering spooked horses can lead to death, such as that of an Iowa woman killed last Sunday during a Fourth of July parade.