Preacher accosts mayor outside city hall
Poverty among issues brought up in street encounter
A Calgary street preacher took his mission to minister to the steps of Old City Hall yesterday, just days after criminal charges against him were dropped.
"We are here to plead with the mayor's heart in regards to the poor and homeless of Calgary," Artur Pawlowski told the crowd gathered to support him.
"They don't want us anywhere else so we brought it here," he said, pointing to city hall.
Calgary Mayor Dave Bronconnier, who was giving a tour to several business people, initially waded through the throngs of people, but afterwards stopped to talk to Pawlowski one-on-one.
Pawlowski politely asked Bronconnier to state the city's policy on the issue of his sermons to which the mayor replied, "God bless you, but you know what our policy is."
The mayor, not wanting to debate with Pawlowski on the street, walked away after a short conversation to which the preacher said, "He's ignoring us like he ignores the homeless. Where is his heart?"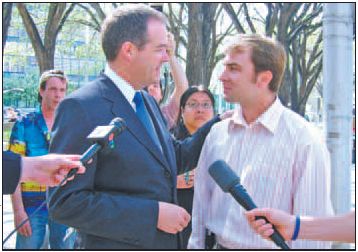 Street preacher Artur Pawlowski, right, exchanged words with Calgary
mayor Dave Bronconnier, as Pawlowski and some of his followers held a
protest outside city hall.
Pawlowski, who quit his job and volunteers his time to help the homeless, has been sharing the word of God, hope and food with the poor for a few years but since last year has been facing noise complaints, bylaw violations and has even been arrested.
On Monday, the preacher walked out of provincial court after charges of causing a disturbance and obstructing a police officer in relation to a sermon he was giving at last year's Fringe Festival were thrown out due to insufficient evidence.
"My only crime was to read the Bible. And those charges were dropped but they still took our permit away due to noise complaints we are not guilty of."
East Village resident Andria Wolf Leg said she lives in the area where Pawlowski preaches every Sunday but doesn't have a problem with the noise.
"You don't even notice it, and he's just trying to do a good thing for these people. He's just trying to feed them and give them hope," she told Metro.
But another area resident Jason McKee said he wants the street preacher and his followers out of the neighbourhood, "back in the church where they belong."
"After working six days a week the last thing I want to listen to is their noise. They're pushing their Christianity on everyone. I don't want to hear it," he said before getting into a heated exchange with the street ministry faithful.
Bylaw officers pulled the plug on the demonstration, telling Pawlowski he needed a permit.
The officers declined to speak with Metro.