Mayor of Nova Scotia to be White Hatted
– FOR IMMEDIATE RELEASE –
June 15, 2010
March for Jesus Hits Calgary
Mayor of Nova Scotia to be White Hatted
After years of absence we are proud to announce the restoration of the March for Jesus in Canada.
"We are so excited that not only the March for Jesus is back but that we will be privileged to have some of the greatest Christian leaders in this country coming to do the opening for the march. Stockwell Day, Rob Anders and our honorary Mayor for the event the Mayor of Truro from Nova Scotia, Bill Mills.", stated Artur Pawlowski March Co-ordinator for March for Jesus.
Alderman Rick McIver and the Mayor of Truro are going to cut a symbolic ribbon to open the march. Later on both men will address the crowd and they will be prayed for by event attendees. The gathering will start at one o'clock, the march will start at two. The march route will be along eighth avenue and will end off at Olympic Plaza around three thirty in the afternoon. The march will be followed by six hours of celebration and will include a lot of free giveaways; Free barbecue (15,000 hot dogs, thousands of hamburgers, and of course Tripple-A steaks), cotton candy, popcorn, ice cream, balloons, caps, Bible tracts, Bibles, Christian materials, there will be a bouncy house and about 2,000 toys for kids to take home with them, etc. The celebration will also include worship (three Christian bands will be performing), prayer, and drama presentations.
"This event will bring Christians from diverse backgrounds to celebrate together in unity love and under one name, the name of Jesus Christ of Nazareth. No matter your age, race, colour or financial background, if you love Jesus Christ and proclaim Him as your saviour and Lord, you are welcome to come. This day is for Him to the glory of God the Father and all who come in that spirit are welcome to join in and enjoy the blessings and the joy that this event will bring", stated Jim Blake March Coordinator for March for Jesus.
An expected 15,000 will be coming to this event to participate in this amazing and beautiful Father's Day event.
The White Hatting Ceremony is to honour Bill Mills stand for Judeo-Christian Heritage of our wonderful country. Bill Mills is a very well known advocate for Biblical values and views and is one of the most well known voices in politics regarding moral issues. We will be White Hatting Mayor Mills at Calgary International Airport when arrives from Halifax at 10:05am on flight number 319.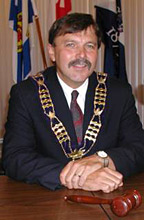 Mayor of Truro Bill Mills
For more information please contact a March for Jesus Coordinator, either Jim Blake at 403-690-4636 or Artur Pawlowski at 403-607-4434.