Full Serving of Hope for the Homeless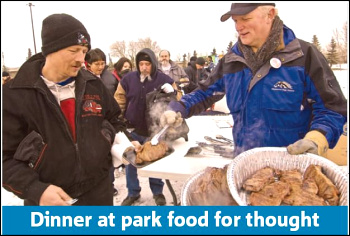 Street Church volunteers barbecue juicy Alberta beef at Simmon's Park for the homeless in need of a good meal at this time of year. Every year the church sets up in the park and offers free food and clothing, helping to bring Christmas cheer to those less fortunate.
More than 1,000 homeless people were treated to a triple A Alberta steak Christmas dinner yesterday in the city's core thanks to a local street preacher.
Artur Pawlowski, preacher for The Street Church, which provides food and sermons for the homeless, and sermons for the homeless, held a special Christmas festival at Simmon's Park during the fifth annual event.
"Over Christmas I hear so many stories and a lot of these people say they want to commit suicide. Christmas can be a wonderful time of year for some but for some it's the most depressing time of the year," the minister told Metro.
"But when we do this they come here and they hear cheerful music and eat good food and see that God loves them. Christmas isn't about shopping or gifts, it's about hope and we're giving them hope."
The Street Church feeds the homeless every week at the park but during Christmas they make it extra special, serving enough steak, beef and smokies for up to 5,000 people, spending $10,000 to do so. "We know it works, we know it cheers them up. They see that someone cares about them to do this and we're bringing them together for Christmas."
One local man who visits the Street Church every week is 48-year-old Bernard Gomes, who waited in line for a juicy steak dinner and received a winter coat to help keep him warm in the cold. "It's important, sure it is. It makes a big difference for us. The people are here because they need to be here and they give us food and give us other stuff," Gomes told Metro.